Written by Mike Stewart | 30 May 2010

As I posted here, about getting a copy of the Verizon Greater Dallas Directory after opting out of distribution, I have a real bone to pick with SuperMedia.
Since they delivered the book, I figured I would take a moment and share with folks what is really wrong with advertising in the yellow pages in urban markets like Greater Dallas Tx.
What is so bad about Sales Fraud? Not only does it hurt investors, it undermines the integrity and value of advertising in the product. The great thing about Yellow Pages is that it is a directional advertising medium in which the consumer already knows what they need. The bad thing about advertising in SuperMedia's phone book (more-so than AT&T or YellowBook) is that sales fraud is rampant. Sales fraud is the culture. Right next to a paying clients ad are hundreds of ads in each book that the company never collects a dime, yet sales reps, and managers keep putting the same businesses back in the book.
The "sales-ology" culture has made it hard for paying clients to not lose calls to competitors that don't pay.
Sales Rep Fraud does the following:
Circumventing Credit Policy
Disservice to clients who are put under headings that won't be searched for and the calls are not for the "real type" of business the client provides
Costs the company additional money in paper and ink (thus killing more trees)
Disservice to users who can't find what they need and go elsewhere
Disservice to "true" advertisers, like Anderson Paving in Dallas a well known Dallas Paving and Asphalt Construction Contractor who lost calls to Sandy Henjum's husband last year, who by the way didn't renew the ad that got her "Retired from Idearc Media."
Since both the sales rep, sales manager, SuperMedia CEO, know the clients have no intention of paying the bills for ads placed in these headings by these "new" companies, this is also a disservice since these junk ads are often times larger than what a real advertiser can afford.
But hey, You won't see the damage until it is already done. Scott Klein's security henchman, Mr. Vickers, who local rumor says is a black man who doesn't go after sales fraud from other blacks, he supposedly is the guy who Scott Klein sends out to fire folks when he no longer needs the fake sales from them, when the shit gets too thick, or when others get tired of witnessing the fraud and finally complain to HR.
One other consideration: It drives up quotas. Sales fraud is likely a factor in why Mr. Klein has some sort of expectation of 60-80 appointments in a day!
Here is a video that shows the "double double" and sometimes "double double double double" truck ads in the Greater Dallas book. I noticed many different "tricks" to inflate page count. It was obvious that they still consider the number of pages as a means to determine the success of a book vs the actual revenues earned from advertising sales after paying commissions.
The worst thing about the book I noticed was the shift to "new headings" that previously had no advertising. I want ahead and scanned examples to share of what I was talking about just in case folks wanted to argue about it.
Maids and House Cleaners under "Organizers" with Full Page Ads: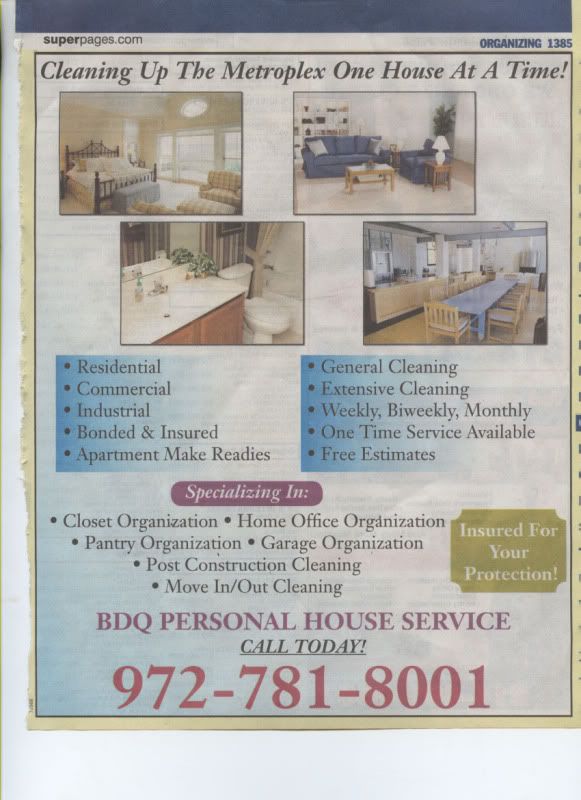 Or Remodelers under "Carpenters" with the same: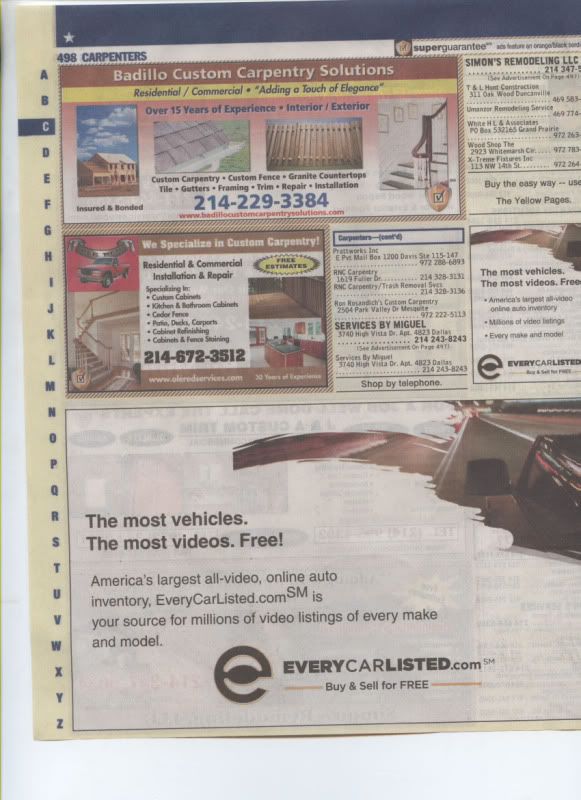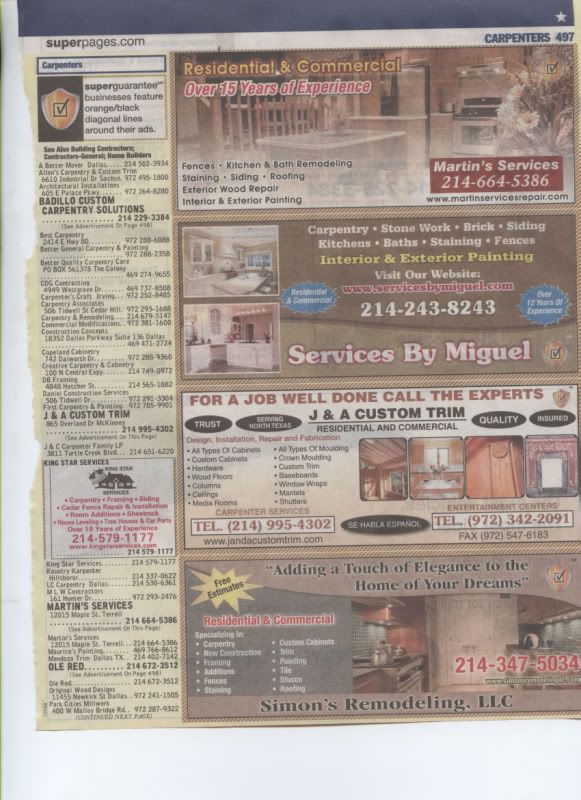 How about Paving? Since Concrete Contractors is now a High Risk Heading, looks like the management team in Texas Sales have found a new heading to trick shareholders and investors with so called "yellow page advertising sales results.":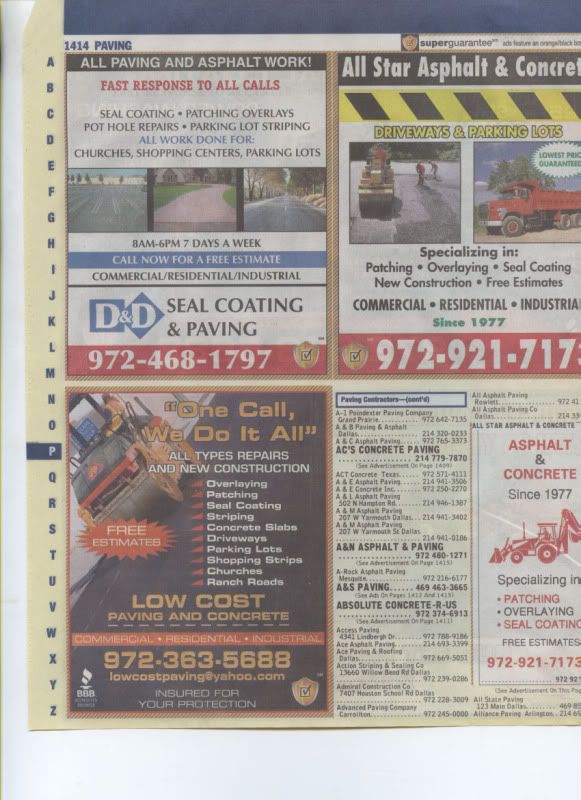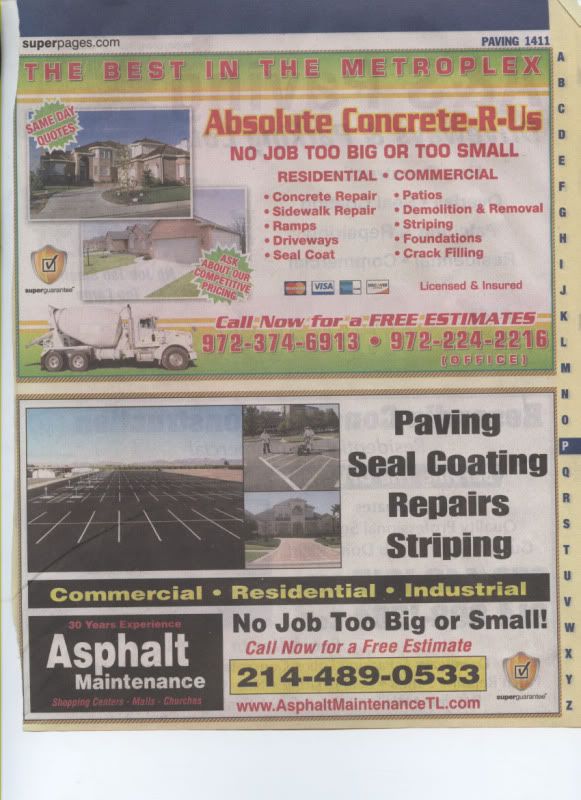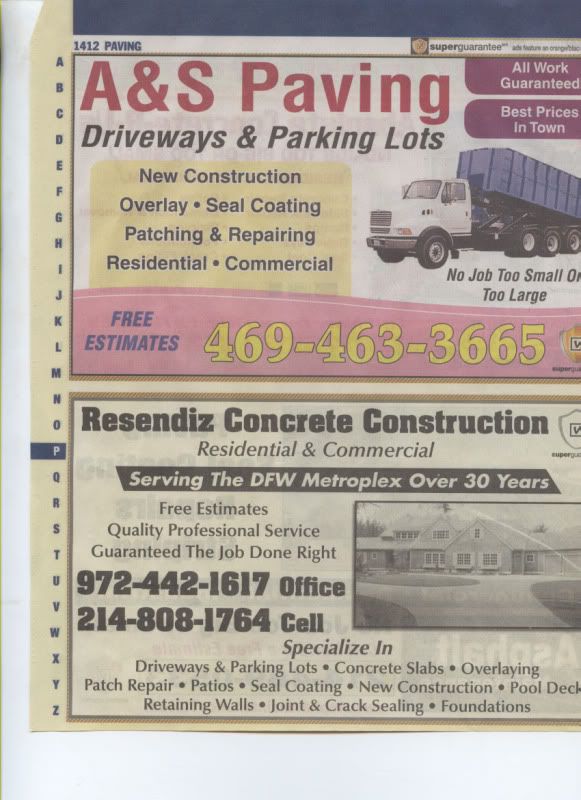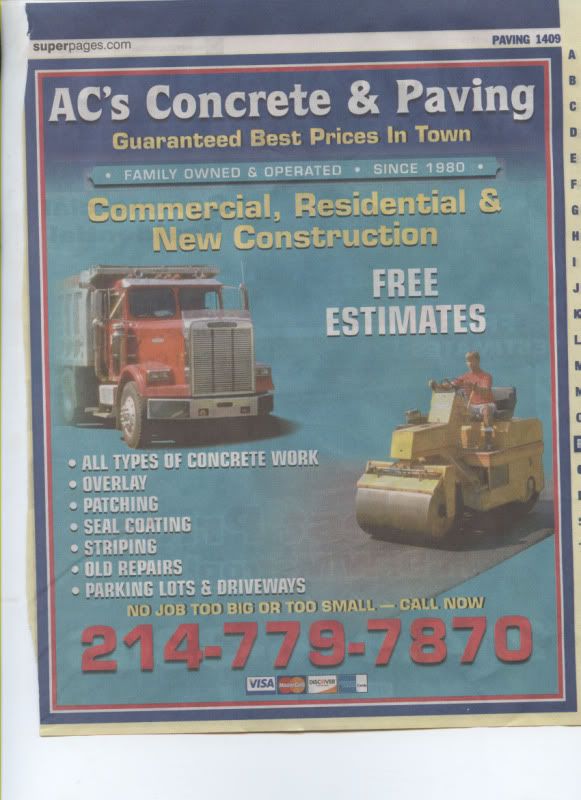 Here is the real heading of "Home Improvement", you need to consider the types of companies that can get credit approval under this "High Risk" heading and the amount of "paying advertisers":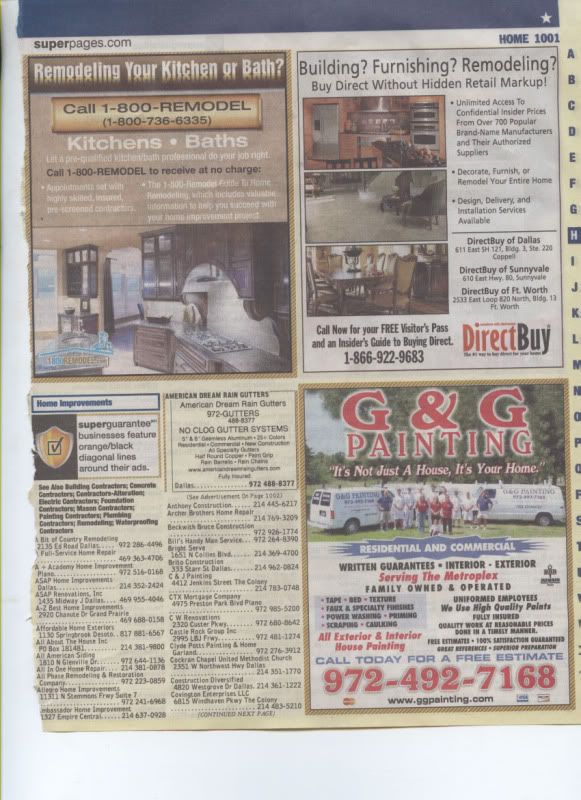 Here is the real heading of "Concrete Contractors" another previous fraud heading in which the "cheese" or fraud was relocated to another place. All they seem to do is move from one to the other, selling bogus ads to former delinquent clients or putting folks in headings they don't belong to circumvent the credit policies. Bill Brewer and Scott Klein are fully aware of the fraud, they choose how and when to enforce it based on how they want to manipulate bonuses and earnings.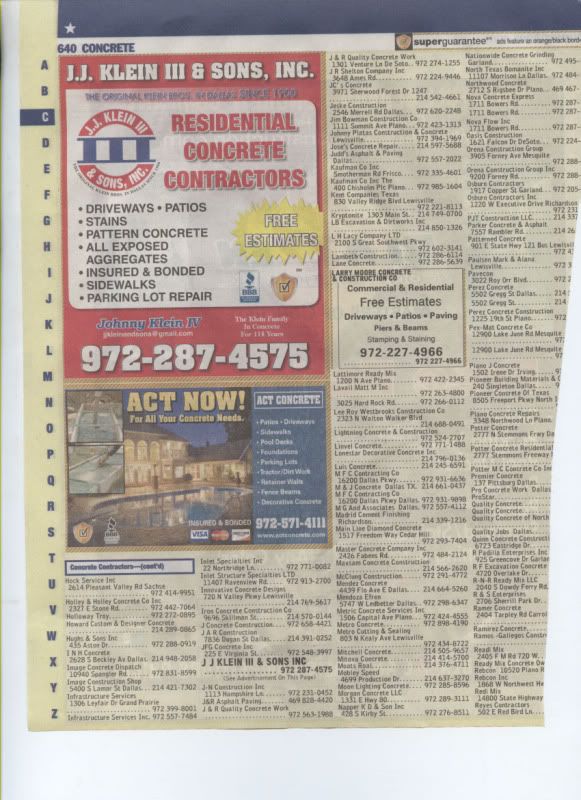 Amazing how many ads are under Concrete vs what they used to have. Now Paving is the "fraud" heading.